Not mobile-friendly? Discover how Google is punishing your site…
Google penalises all websites which are not mobile-friendly. Find out if your site is by taking Google's test
Mobile v Desktop
The latest Statcounter Global Statistics have highlighted a tipping point in internet device use. Smartphones have been threatening the primacy of desktop as the major internet device for years, and they finally overtook the grand old dame in December of 2016. The chart below shows a 12 month increase in smartphone market share of 28% and a decrease in desktop market share of 19%. If you add the steady use of tablets at 5% of market share, mobile devices account for 55% of  internet usage worldwide and their share is growing.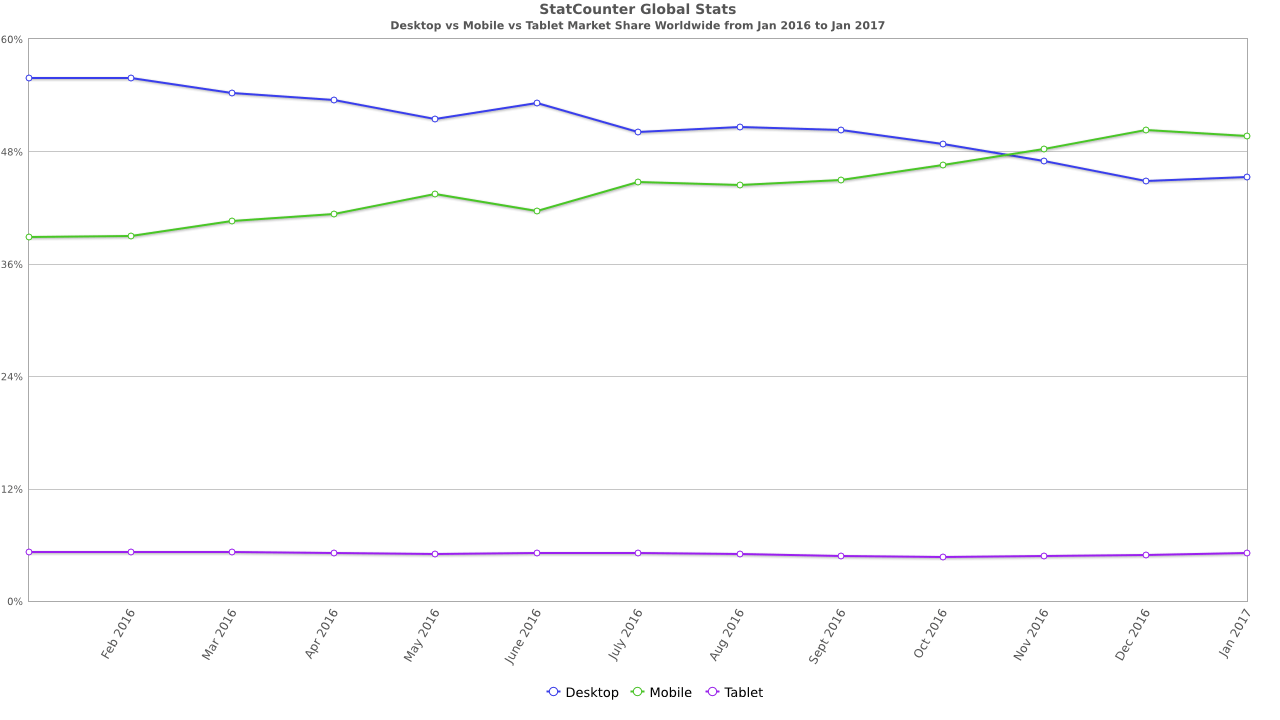 #Mobilegedden
Anticipating this trend, in April 2015 Google started using mobile-friendliness as a ranking signal on mobile searches. They doubled down further in 2016 by increasing the effect of this ranking signal and by releasing the Accelerated Mobile Pages (AMP) project, a stripped down form of HTML designed to supercharge mobile page speed.Ultimately, this means that Google is increasingly punishing websites that do not have responsive web design. This is a clear statement of intent by Google – adapt or fall down the search rankings.
Is my site ready?
This should be a wake up call to everybody. It is imperative that your company's website be responsive web design enabled. Responsive web design is when a website changes to the size of the screen it is being viewed in. According to Google, "The desktop version of a site might be difficult to view and use on a mobile device. The version that's not mobile-friendly requires the user to pinch or zoom in order to read the content. Users find this a frustrating experience and are likely to abandon the site. Alternatively, the mobile-friendly version is readable and immediately usable."
How do I check?
The easiest way to check to see if your site is mobile friendly is to use Google's Mobile-Friendly Test. Simply type your website's url into the url box and run the test.
If your site is mobile-friendly, you should should receive a reassuring message that this is so and you can rest assured that your site is not being penalised for rigid desktop only design
However, if your site is not mobile friendly, the tool will give some suggestions as to why this may be the case.

What should I do?
Marketers have been quick to react. Eight months after Mobilegedden, 25% of non-mobile optimised sites have gone on to implement a mobile optimised web presence.
If your site failed the mobile-friendly test, your "desktop only" website is harming your business. Potential clients have difficulty reading and interacting with your site and Google will rank your website in increasingly lower positions. It's time to wake up to the new mobile future.